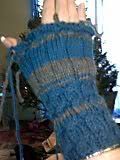 One to go!

I wasn't sure if I'd have enough of the Peacock to finish both gloves, so I added some grey stripes, including a bitty one around the thumb. It seems now that I had little to worry about, but I like the stripes: I think they're funky, and SIL is pretty funky!

Not sure if you can tell from the at-RO-cious pic (damn, I need a proper camera! this thing only does misty black-and-whites well) but there are about 16 ends of yarn hanging out of that glove, waiting to be woven in. I'll get to that tomorrow.

Off to cast on another!