Every Monday evening, I teach a group of teenaged girls how to highland dance. And it's a good time, to be sure. One of my students, L, has been step dancing (that's the one with the noisy shoes and the fiddle music) for years, so I've known her for a while. And she asked me to make her Christmas formal dress. As promised, here it is:


It's very shiny! I wasn't able to get a good shot of the whole length of it, but it will be about knee-length. We were going for a look inspired by Marilyn Monroe's infamous white chiffon from The Seven Year Itch. The shape of the bodice is about the same, but we've used gathers at the bust, and at the waist, instead of pleats. The fabric is a pale blue crepe-backed-satin, with a pink satin ribbon tie for the halter at the neck. The pink ribbon will also be around the empire seam of the bodice (after we've fitted the dress at noon tomorrow).

It's been strange making a dress for someone else. I'm a big chicken; I like to fit and refit throughout the construction process, so I've felt a little like I'm working without a net, sewing my first entire dress using only measurements (but I took measurements all over her! just to be safe). It's also felt strange to make a dress that isn't something I would naturally choose to make. Don't get me wrong, it's a sweet dress, and should look lovely on her (if it fits...oh pleeeease let it fit!!! I'm soooo nervous!!!); it's just that I've outgrown my love of crepe-backed-satin dresses. I pulled out my prom dress from 1998: yeah, it's like

exactly

the same fabric for it's skirt. Eight years later, I'm a bigger fan of wool crepe, dupioni silk, and silk chiffon. Tastes change, huh?

Any-whoo, my oldest friend (chronological age of the friendship, that is) will be married on December 30, and I am singing during the ceremony. It's a lovely honour, to sing at someone's service, and especially lovely because she and I have been friends for about 20 years now (holy moly, where the hey-o did the time get to?). And I have a - if I do say so myself, and I do! -

FABULOUS

dress! It's red, a beautiful, cool, candy apple red, dupioni silk, strapless, side-pleated, column. It looks just about exactly like this: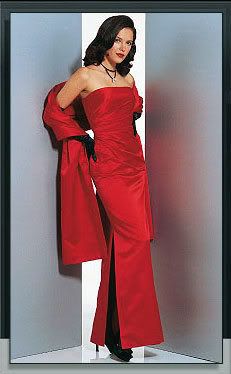 Ooh, golly, I love that dress!! But I need better shoes to go with it. And here I need some second opinions, because, frankly, I suck at making decisions for myself. I'm a goober that way. Here are our options (and they are all within $10 of each other, so price isn't a factor in deciding):

In that pic, the left one is bronze leather, and the right one is black satin, or theeeese:
That pair is a rip-off of some Louis Vuitton shoes, and they are brown satin with a cream contrasting ribbon.

So what do I get? I'm absolutely in loooove with the brown ones, but I honestly don't think they'll work with the red dress. Boo. But maybe with the black crepe I'm wearing to the rehearsal, and you know, with everything else I can find!!! They're sooo lovely. But for the red: metallic leather, or black satin? I might be able to wear the black satin again at my sister's wedding this coming July (but they're stilettos, and she's being married outside, in a park, with the reception at my aunt and uncle's farm, outside...) so maybe I should get the leather, because it'll be a little more interesting....

You see now why it takes me so damned long to shop for

anything

! I'm hopeless...

Oh, yeah, and I still knit, too. I'm working on my very first attempt at fair isle: a big circle to felt into a potholder for...dunno, someone, maybe FIL's lady-friend, for Christmas (deets tomorrow!). Because now that I'm making a teeny bit of money sewing, I'm back to wanting shoes. Shoooooes!!