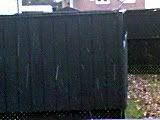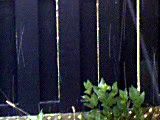 Those streaky white things in those two pics are snowflakes. Yay! In time for the beginning of the 2006 Winter Cheer/Spring Is Here SP (we'll be leaning towards the Winter Cheer theme up here!).
I've frogged the hat completely, and started again, but I'm feeling quite discouraged. I think I may need a break from the thing, and spend some time on something for which I have a pattern, to save myself the stress (is there anything more irritating than thinking that all the work you're putting into a project will amount to diddly?).
If I could only find my jewellery pliers (nice slender round-tipped jobbies) I could get started on some stitch markers. Bah again, to post-moving chaos.
But, oooh, pretty snow!