I'm not sure why my camera is doing it, but it's taking crappy pictures and pixelating everything. Oh, right, I use my mobile for pics. Maybe some day I'll get a nice digital SLR. And maybe someday I'll wake up a perfect size 2 without ever trying. Ha.
So I do apologise for the image quality. But I promised pics, no matter how bad.
Ok, the felted purse. Here are the tiny flowers on the front of the purse. They sort of wind up the body of the bag and onto the flap. I think it's pretty: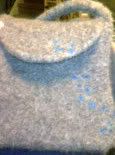 And a section of the funkier embroidery on the strap:
And look what I found!
So I've been playing with wire! I made these: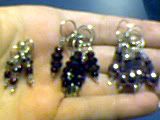 Fancy beaded stitch markers! Some for the SIL, and some will go to my sp (hee hee, they aren't pictured, in case you're reading this; you won't know if it was me!) I'll pick up some jump rings, and get started on some pretty beaded pattern row markers a la Turtlegirl. Thanks for the specs, Cristi!
I have other things I've thought of to post, silly puppy observations, mostly, and comments on the heinous nature of suburbia. But I need to end this habit of the middle of the night posts. I'm beat.